picker

>
it's all here (click art to learn more)
‹
›
Directions

>
2020 O Street, N.W., Washington, D.C. 20036
(in the middle of 20th & 21st Streets)
202-496-2020
Public Transportation
Conveniently located less than a block from embassy row and the Dupont Circle Metro Red Line - South Exit - we recommend you go green and use public transportation when you visit.
Take the Metro Red Line to Dupont Circle
Take the Dupont Circle/South exit
At the top of the escalator turn right and carefully cross 19th Street, NW
Walk between the two buildings in front of you and then carefully cross New Hampshire Avenue, NW
Walk left and you'll see signage for 20th & O Streets, NW
Carefully cross 20th Street and come on down O Street to 2020 on your left. Welcome
Did you know?
the mansion has been featured in some of the worlds most prestigious travel and bridal magazines
If you require the use of an elevator:
Take the Metro Red Line to Dupont Circle
Take the north - Q st. exit
When you get to st. level turn left towards 20th st.
Turn left on 20th st.
Turn right on O st. - we are half a block down on the left
Fun, especially if you are obsessive-compulsive like me! Needed to find one more door! Arts and pop focus and eclectic style was fun too!

— Louis Rivera
Parking
We recommend you take the metro or a ride share service. Personalized self-parking is available for our overnight guests $48/car (plus applicable taxes).
On-street parking near The Mansion is limited. We recommend booking convenient and affordable parking in advance through SpotHero, the nation's leading parking reservation app.
Visit The Mansion on O & O Street Museum Parking Page to reserve your parking spot.
Car Service

We are proud partners with Reston Limousine. Offering luxury transportation and the highest safety ratings from the U.S. Department of Transportation and U.S. Department of Defense. Use code: OSTREETRLS when you book.
Driving
click on the map and type in your location for google directions.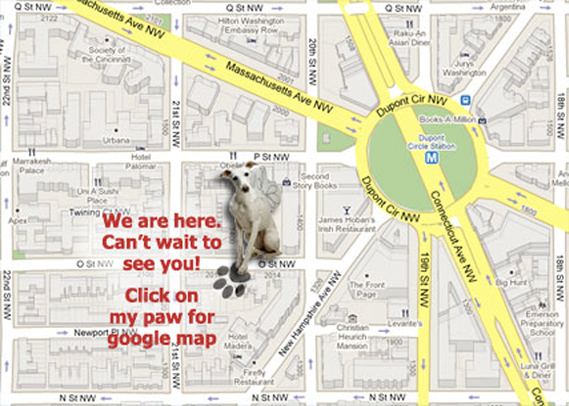 Very much enjoyed it! Next trip we will stay longer!

— Kathleen Wright